conference
2018 – Transformative business strategies (Venice)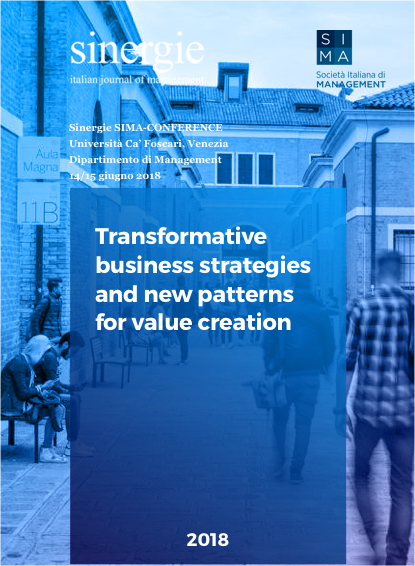 Submission and peer review process
Only unpublished papers that have not been previously submitted for publication or presented at other conferences and that are not under review by other journals and/or conferences will be accepted for the conference and subsequent proceedings.
Full paper submission
To submit a paper for the Sinergie-Sima conference, two separate files must be sent using a Microsoft Word for Windows format:
A file entitled 'IA' detailing the authors, the title of the paper, information on the authors (e.g., qualifications, scientific disciplinary sectors, email addresses and mobile phone numbers-this information is reserved for the exclusive use by Sinergie's administration) and any paragraph attributions, acknowledgement sections and references to research projects that led to the drafting of the paper; and
A file entitled 'FP' comprising the full paper (based on the conference template and no longer than 18 pages) that includes a structured abstract (no longer than 250 words), key words and a reference section. The abstract should be divided as follows: objectives of the paper, methodology, findings, practical implications, limitations of the research and originality of the paper. The insertion of figures and tables as images (i.e., .bmp; .jpeg; .jpg; .png; .gif formats) is not allowed; any figures and tables should be provided in a Microsoft Word format. Any related files of additional tables and figures must be attached in their original format (e.g., xls). Footnotes should only be used to make comments, provide more in-depth analysis and note further considerations, and should not be used to provide any bibliographical information.
Extended abstract submission
To submit an extended abstract for the Sinergie-Sima conference, please send a file entitled 'EA' using a Microsoft Word for Windows format. The length of the extended abstract should be no less than 5 pages and no more than 8 pages.
Files should be sent as an email attachment to Laura Ciarmela, editorial staff member of Sinergie, at laura.ciarmela@sinergieweb.it
Subscribe
now


to The Journal

FIND A SPECIFIC ISSUE

subscribe