conference
2018 – Transformative business strategies (Venice)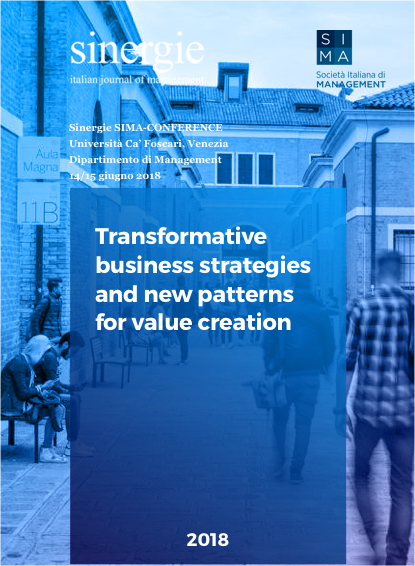 Conference framework and topics
The conference theme will be debated during plenary and parallel sessions across Thursday June 15th and Friday June 16th, 2017.
The plenary sessions will rely on the contribution of reputable academic and professional figures who act as keynote speakers, discussants and interviewees. Prof. Gianmario Verona, Rector of Bocconi University, will be one of the keynote speakers.
During the parallel sessions, the papers that have been selected through a double blind peer review process will be presented. Moreover, there will be one or more sessions dedicated to extended abstracts during which the participants will be able to present their research projects and benefit from the comments and suggestions of the chairs and other participants.
The papers and extended abstracts may be submitted in Italian or English (edited either in British or American English).
Sinergie and SIMA invite participants to present papers and extended abstracts on the following topics within the specific theme of the conference:
Value co-creation processes, enablers and barriers
Value co-creation and organizational well-being
Managing and measuring value co-creation
Market creation and shaping
From hierarchy to internal networks
Business models innovation
Open and collaborative business models
Corporate social responsibility and business ethics
Systems, networks and complexity
Strategizing in networks: from competition to co-opetition
Innovation in practices
Digital economy, internet of things and internet of everything
New value proposals in BtoC and BtoB
Customer engagement
Finance and value co-creation
Sharing economy and collaborative consumption
Co-created brands and communication
Value co-destruction
Submissions about other topics within the various areas of management research are also welcome. For example: entrepreneurship, business strategy, corporate governance, innovation, manufacturing, marketing.